CNY Post Frame Pole Barn Design Services
Complete Design & Build Post Frame Buildings & Pole Barns. Agriculture, Residential, Equine, Commercial – Rochester, Syracuse, Finger Lakes, New York.
CNY POST-FRAME DESIGN SERVICES
Looking to start a new building project? Our knowledgeable Central New York Post Frame Building Design Staff will help you choose the right kind of building or wood frame building to fit your needs and budget.
What Is Good Pole Barn Design?
Any new construction starts with a good foundation, and that stands true for post-frame building construction as well. Quality laminated columns that carry the weight of the building is essential. Think of them as the legs that not only give support but stabilize everything above ground. The type of material used depends on the type of building being built and there are a variety of materials to choose from. It is quality design from start to finish that ensures that any construction project we do will last.
Whether you are located in Rochester, Syracuse, Geneva, Auburn, or anywhere in the Upstate New York Finger Lakes Region, we have experienced pole barn professionals that have a proven track record that we will work to make sure your needs are met. We know that the key to any project is listening to our customers and working through each objective to ensure the plan for your pole barn project is exactly what you envision. Our engineering, product, and building materials staff will work with you so you are certain will design comes to life.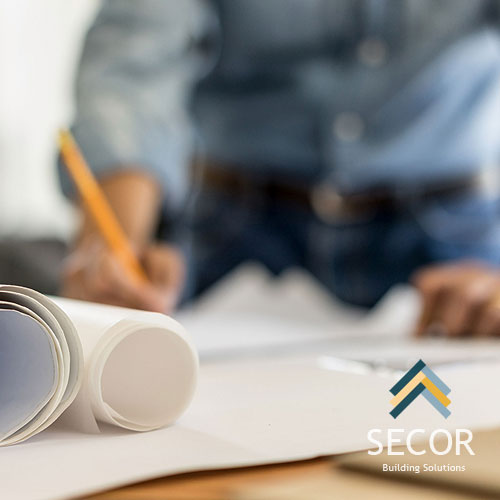 Complete Post Frame Building Solutions from Concept to Completion
Secor Post-frame Solutions is a vertically integrated Central New York construction alliance specializing in design/build construction projects utilizing the economical technology of post-frame building construction.
At Secor Post-frame Solution, design/build starts with pre-construction programming. Custom designs are born and matured. At this stage, each client becomes an integral part of the Group's pre-construction team. Design and cost analysis play back and forth in an effort to maximize the return on the project investment.
As your pole barn project designs evolve, cost projections firm. Well aligned within the Group; representatives for design, engineering, supply, equipment, labor, insurance, construction management, and other areas apply experience, talent, and effort towards the pre-construction programming of each project. At the end of each successful pre-construction process is an affordable and contractible project.
From there, the Secor Post-frame Solution Group is equipped to take each project to completion. The experience is seamless and without the delays often experienced when the pre-construction and contractual parties are represented independently.
Thinking about a new post frame pole barn building project? Before you do anything contact the Post-frame Solution Group at Secor Lumber. With almost 80 years experience, our Central New York and Finger Lakes team can help you take your project from dream to completion.
Post-Frame Buildings:
Secor Post Frame Solutions constructs quality Post-Frame Buildings and Pole Barns that serve as:
Barns
Garages
Workshops
Warehouses
Pavilions
Storage Facilities
Offices
Homes
Showroom
Hobby Shop
You Need A New Pole Barn Building, We Have The Experience
Contact us today and we'll help you create the right Post Frame Building for your specific needs.