Post Frame Building Repair & Renovation
RESTORING & RENOVATING YOUR POST-FRAME BUILDING TO IT'S ORIGINAL CONDITION
Pole Barn Repair & Renovation
Our post-frame building experts are also equipped to help you renovate, restore, or repair your existing post frame building or pole barn.
Secor Lumber offers complete pole barn and post frame building repair and renovation services regardless of who erected the buildings.
We provide expert service and support for metal roofing and siding repair and can provide replacement steel roofing, siding, and wainscot. We provide pole barn repair services for all types of post-frame structures from residential buildings to the commercial and agricultural pole or metal buildings damaged by storms or extended usage over a period of decades. We also provide complete refurbishment and building upgrade solutions.
Through our extensive professional contractor network, we offer post frame and pole barn structural repairs to fix broken or damaged roofs and other building components that may have suffered wind or snow load damage.
Do you have a pole barn with a deteriorating post? We can repair and replace rotten pole barn posts and columns to extend your building life for years to come. We also offer Perma-Column precast concrete bases to keep your posts above ground.
At Secor, Post-Frame is Just the Beginning
With decades of experience in Central and Upstate New York post-frame building construction, we have the experience, knowledge and above all the quality post frame building materials to renovate or repair your pole building. Our specialty is pole barns and post-frame construction but our experience doesn't stop there.  For almost 80 years we have been helping Central New York homeowners and businesses expand, repair, and renovate all types of structures.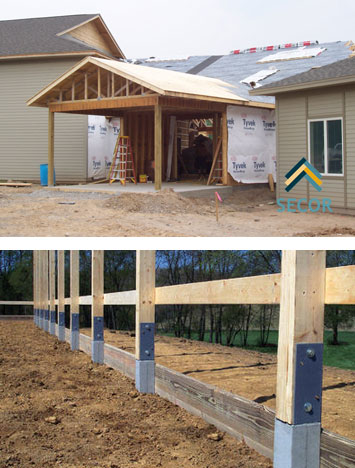 You Need A New Building, We Have The Experience
Contact us today and we'll help you get the right building for your needs.