Insulating your Post Frame Building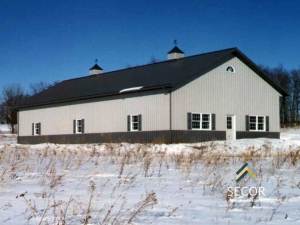 Pole barns built with post frame construction methods are great for storage, animal shelters, and so many other purposes. They are certainly the most efficient way to erect a building to give you a large uninterrupted space. You may have seen fire stations and warehouses that need substantial square footage without vertical support beams to break up space. The use of post-frame construction is used to accomplish that.
Pole Barn Building Energy Efficiency
When building a post frame building there are a number of cost saving from planning, construction, materials, and labor to keep in mind. Post frame buildings can be more energy efficient than your standard building construction. A pole barn building that is properly insulated requires approximately 15-20% less energy to maintain a constant temperature than you find with a fully insulated traditional building.
It all comes down to the details in design that makes for better efficiency when it comes to post frame construction. Standard stud built construction has supports that are 16 to 24 inches apart. In pole barn building construction the vertical supports can be wood or steel and are spaced 8 to 10 feet apart. What this means is, you don't have as many energy losing seams with post-frame construction. The insulating materials can be installed more uniformly and it also simpler to install.
How to Insulate a New York Pole Barn or Post Frame Building
Because of the spacing of vertical supports in post frame buildings and the efficiency you get with insulation that has fewer interruptions, equals more energy savings. The amount of insulation that is required will depend on your intended use for the building. If you want the inside temperature to be more constant them more insulation materials may be needed. If you expect your purpose for the building to change, then you don't have to over insulate. It is best practice to insulate for what you need at the time of construction. This begins with planning ahead and working with experts to plan for the right amount of insulation and ventilation you should have. Eliminating moisture is also an essential element when looking at proper insulation.
Insulation Material
When it comes to selecting which pole barn building insulation materials to use, the most common type of insulation that is used in construction is fiberglass batt or blown-in fiberglass particles. Blown insulation required special equipment, while batted insulation if much more simple to install. A more expensive option is blown foam that is typically done by a professional.
Two Insulation Approaches
One approach is to install six inches of insulation between each of the vertical wall supports and cover with a moisture barrier, like Tyvek. This same process can also be used for ceilings as well. You can use this type of insulation method at any time after the building shell is constructed. Adding an interior framed wall over the insulation will provide further insulation benefits and provide a more finished interior.
The other approach is to add two inches of insulation directly under the outer surface, which is often metal. With this type of application, you reduce the amount of insulation that is required, providing a similar R-value reducing the sound from outside. This method should also be completed during construction.
Pole Barn Construction for All Your Commercial Building Needs
For over 80 years, we have worked with businesses throughout the Central New York and Finger Lakes Region – from agricultural and equestrian building construction to churches, dance studios, automotive tire repair shops, and more – to plan, design, and move forward with their pole barn construction projects. No matter what state of commercial pole barn building construction planning and development you may be in, we are here to help guide and work with you for the best possible outcome. Contact the Secor Pole Barn specialists today to get started.